TWO GREAT HISTORIC VENUES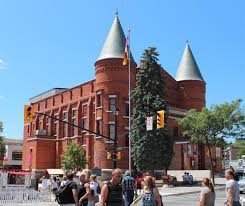 The Orillia Concert Association has two great facilities to host its fabulous seasons. The ORILLIA OPERA HOUSE and the ST. ANDREW'S PRESBYTERIAN CHURCH. For its 65th season, it has the honour and privilege of exclusively presenting at the Orillia Opera House. This 119 year old building is one of the many historic buildings found in this city of 30,000. Located in the heart of dowtown Orillia at Mississaga and West streets, this landmark has seen the likes of Glenn Gould, Oscar Peterson, k.d. lang, Mickey Rooney, Dan Hill, Liona Boyd, Blue Rodeo, George Canyon, aul Brandt, Ron James, Manteca, Lighthouse, The Stampeders and our own hometown boy, Gordon Lightfoot. As well, it is home to many in the local arts scene, featuring Music, Dance, Theatre and Film. With great acoustics and sight lines, this remarkable centre for the arts seats 700 people and is the jewel of Orillia.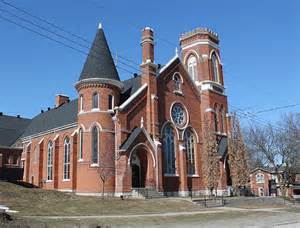 However, for the new season in 2017-2018 we will also be presenting at Orillia's historic ST. ANDREWS PRESBYTERIAN. Orillia Presbyterian Church (St. Andrew's) was established in 1851. The original building was erected the following year and was enlarged twice.  In 1889, it was taken down to make way for the present church building, with a sanctuary to seat 1,000 (currently seats 850). The North East wing comprising the Sunday School Auditorium and Fellowship Hall area was added in 1914.
In 1983, the building was designated a Heritage Building in the Province of Ontario.  A brief excerpt from the architectural summary by LACAC of the City of Orillia: "Architecturally, the building is quite unique, boasting three towers, one of round turreted version.  Stone string courses and labels over doors and windows form a contrast to the red brick walls, which are also decorated with buttresses, and pointed gothic window and door openings.  The building employs a basic transept type plan and rests on a limestone foundation.  Decorative brickwork includes corbelling along the eaves and recessed stepping used at the doorways. "Outstanding interior features of the church include ornately carved woodwork, stained and leaded glass, a decorative iron railing around the balcony, and a beautiful raised choir loft."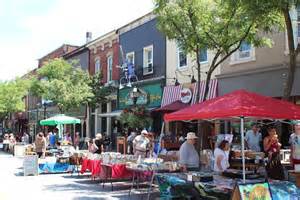 As you attend our concerts, take the time to visit our DOWNTOWN. With many fine shops, you will have a lovely afternoon of strolling, browsing or even finding that special gift. And if you find yourself a bit peckish, Orillia has many fine restaurants located within walking distance of the Opera House. Whether it's a coffee and pastry you're looking for or haute cuisine, Orillia has just the answer for the discriminating taste. So, whether you come early prior to a performance or wait till after, your time at the concert will be made even more special by making the DOWNTOWN part of your experience.